Explore how Cedar Lake enriched a Region and touched lives around the world.
Sign up for special offers & events!
We respect your privacy, your information will never be shared.
Already a member? Login here.
Dine-Out Fundraisers
Support us while you enjoy a delicious meal and fellowship with our volunteers this winter: January 25th at LaDilla Mexican Grill and February 28th at Chick-fil-A.
Winter Speaker Series
Join us in the Museum Members Lounge on select Sundays during the off-season to learn  about the people and places that put the Calumet region on the map.
Discover the Dewey Line
Our Steam Through History project partnership has won 3 awards. Learn about our national, state, and regional recognition and view the award videos.
History-at-Home
The stories of Cedar Lake come to you when you cannot visit us in person. Watch our recorded History Road Show programs and more.
Invite your family and friends together for your event in our unique venue that brings the resort era to life. Read our Rental Agreement Policy for full details. The rental process begins by checking for availability.
• World-renown Dr. William Scholl learned shoemaking skills from his grandfather in Cedar Lake.
• The Amour Brothers would cut and harvest ice from Cedar Lake for their meatpacking company in Chicago.
• Cedar Lake was a honeymoon hotspot in the early 1900's.
• The Cobe Cup race route, the precursor to the Indianapolis 500, ran through Cedar Lake.
Whether you come to Cedar Lake to learn or to lounge – the 1920's Come Alive on the Lake. Want to know more? Ask our historian.
Get your Cedar Lake resort wear online or visit our general store resort souvenir and sweet treat shop featuring candy and ice cream inside the Museum.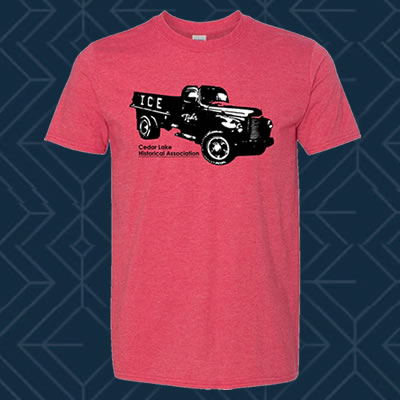 Apparel
Choose from Museum at Lassen's Resort, Resort Life Rocks, Dewey Line Crew, Taylor Ice Truck, or Skate Your Date graphic t-shirt. Available in adult sizes.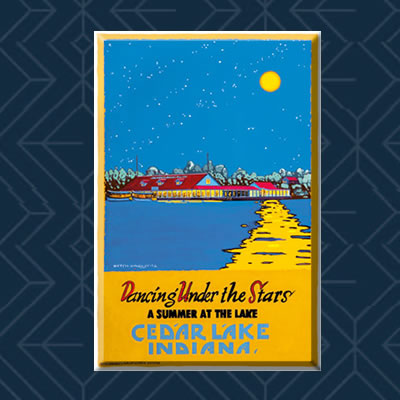 Souvenirs
Support the museum when you purchase books, posters, pins, ornaments, stickers, or toys. Note: Pub glasses must be purchased at the museum.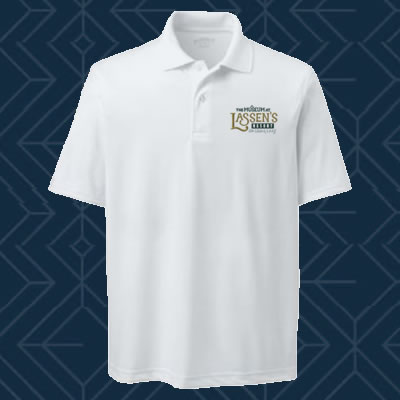 Embroidered Wear
Our Lands' End Business storefront carries The Museum at Lassen's Resort polos and outerwear. Online shopping only.
Lassen's: 100 Years Later
"I love being able to see so much of Cedar Lake's History! Some I remember and the rest is great to see… Without spending some time in the museum you really can't understand much of what it took to build the lake into the town!"
"The Museum was way better than I even thought it would be! I've lived in Cedar Lake for many years but never came before. I loved the steamboat, and so did my kids… The way that the whole museum is set up and divided into rooms is just genius and beautiful."
"From the perspective of a new member to the town and lake, it was a fantastic experience! The history of the lake and the surrounding communities (unfiltered) made it an easy decision to want to be part of Cedar Lake Indiana!"